---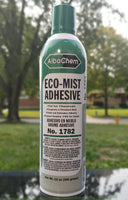 AlbaChem Eco Mist is an all purpose pressure sensitive textile adhesive. 

Re-tack for cutting mats
 Screen Printing: provides temporary bond on pallets while t-shirts, cut pieces, and other textiles are printed; Embroidery: holds appliques in place before stitching; Apparel Manufacturing: hold blotting paper in place while fabric is cut. Re-tack for cutting mats.
''Flashable'' screen print pallet and embroidery adhesive
Great for cutting mats
Great for cutting rooms
Pressure sensitive. Will not transfer
Does not contain hexane
Made in USA.