---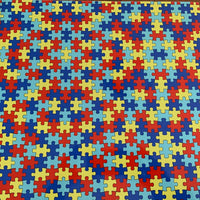 EasyPatterns offers printed designs that are ready to cut with your vinyl cutter and press on with a home iron. 
EasyPatterns are the wow factor you're looking for! Available in several colors and patterns for a variety of niches, there's bound to be a pattern that's perfect for that next project. If you like the trendy options of EasyPatterns then you'll love the easy cutting, weeding, and application. The pressure sensitive carrier allows for quick and simple weeding and releases easily with a hot peel after application. With a semi gloss finish and soft hand, EasyPatterns are the star of the show even when applied with a home iron!
Pair your EasyPattern with Siser® TTD High Tack Mask. This transfer tape is specially paired for use with any EasyPattern. The increased adhesion allows the transfer tape to firmly grip the material, which prevents wrinkling and warping during the masking process. Its transparency promotes accurate alignment. This mask peels warm, keeping the application process quick and simple.
Product Highlights:
Semi-gloss, smooth finish
PU (polyurethane) composition
Thickness: 3.1 mils
Cutter blade: 45° or 60°
CPSIA certified - safe for children's apparel

Applies to 100% cotton, 100% polyester poly/cotton blends, leather, Lycra and spandex
 Directions from the Manufacturer
Application process for home iron
• Cut material – don't mirror!
• Weed excess material
• Mask with TTD High Tack Mask
• Preheat garment for 2-3 seconds
• Set iron dial between Cotton and Linen
• Cover design with Kraft paper or non-stick cover sheet
• Place on flat, hard surface (ironing board not recommended)
• Press iron with medium/firm pressure (do not slide iron)
• Press each section of design for 15 seconds
• If areas of design lift after application, replace cover sheet
and re-press for 10 seconds
• Peel carrier hot or cold

Application Instructions (heat press)

• Cut material – don't mirror!
• Weed excess material
• Mask with TTD High Tack Mask
• Preheat garment for 2-3 seconds
• Apply design at 305°F/150°C
• Use medium pressure for 10-15 seconds